"Listen to the mustn'ts, child. Listen to the don'ts. Listen to the shouldn'ts, the impossibles, the won'ts. Listen to the never haves, then listen close to me… Anything can happen, child. Anything can be." ~Shel Silverstein
Hey Sweetie pies! There are a million and one reasons as to why I love blogging. I think one my biggest takeaways are the communities that are built, the connections. The practically instantaneous bond that takes place upon meeting a fellow blogger. Often times one can find his/herself inspired and more connected after talking and learning more about someone. Your worlds become intertwined and there's a connection there that you can share with someone that is worlds apart it seems. And you know without a shadow of a doubt that if it wasn't for this community, that you wouldn't come to know one another. Well in short, this is how I felt after talking with Amy Oestreicher. This woman and her story are truly remarkable. She is a beautiful person inside and out and her story is truly inspiring. 
Over the next couple of weeks I will be doing #LoveMyDetour posts. This is a campaign that was created by Amy herself, which provides inspiration and light to perhaps an otherwise dark situation for you or someone you know. I encourage every one to continue reading and learn about Ms. Amy and her story. 
As always, XO and Stay FAB! ~ Stormie
A different kind of college tourBY AMY OESTREICHER
I never thought that 10 years after I was supposed to start college, I'd be doing a different kind of college tour…
I was thrilled to get my very first college acceptance letter.  I couldn't believe I had gotten into the musical theatre program at University of Michigan!  I had worked so hard all of my life for this and felt that at 18, everything had come together – I would train for Broadway,  and conquer the world.  I didn't realize that two weeks my world would drastically change forever.
A stomach ache.  A simple stomach ache that escalated into excruciating pain, never ceasing and only growing worse for two entire days.  As the pain grew more and more intense, my father drove me to the emergency room.  I don't remember anything else but the physical sensations of awful pain.  All I remember is gradually waking up about six months later.
A I thought I had my life all figured out.  I felt so lucky that at such a young age, I knew what I wanted to do with my life – I had the drive, the will, the talent, and the support to live my dreams on stage.  I awoke as a newborn does, discovering sensations around her for the first time.  Lying flat in a hospital bed, I only had a view of the ceiling for my first weeks coming out of a coma.  I reoriented myself with the world and learned the true strength of the human spirit.
I awoke to doctors explaining that stomach exploded due to an unforeseen blood clot.  So much pressure had built up inside of me that in the operating room, my stomach actually burst to the ceiling.  Both my lungs collapsed, I needed 122 units of blood, and I was even read my last rites.  Now, I had no stomach, I couldn't eat or drink, and he did not know when or if I would ever be able to again.  What do you say to that?
I asked why this happened – to my family, to my doctors, but mostly to myself.  Why was I blessed with such luck and blessings my entire life, and now was a helpless victim of circumstances, watching my entire world crumble to the floor?  And how was I supposed to go to college now?  I was angry, frustrated, saddened, but mostly confused.  I didn't understand how my last memory was sitting in Physics class, running to the mailbox to check for Michigan's big envelope, and preparing for our Passover Seder.
Then I heard the word "victim" dangle in my thoughts.  And just as I was rediscovering the world waking up as though for the first time, I rethought that word – victim.  Even though I was now subject to the doctors' agenda, a medical marionette subject to 27 surgeries, terms I had never before heard and no idea of when I'd ever sleep in my own bed again, what makes a "victim?"  Certainly I had control over my own mindset, my passions, my thoughts and my dreams!  That was my turning point.  Lying in the hospital bed, missing the past, confused in the present, and clueless of the new road my future would take, I stopped asking myself "why me?" and now asked myself for the first time, "why not?"
 I believe you make things happen for a reason.  You can call it bad luck that I endured six of the past ten years unable to eat or drink, my "planned" life was put on hold and then forever changed, and I endured pain, disappointment, changes and losses that I never anticipated at 18.  I call it an opportunity.    I took a risk…and decided to act like I was healthy until I felt healthy.  Although everyone questioned whether it was too soon to mount three of my own art shows, star in musicals, teach nursery school, learn karate, start my own chocolate business, and remain as vital internally as I once felt on the inside and outside, I went past my nerves.  I took a risk based on the passion I still felt singing out from my heart, expected the best, and was grateful for whatever I received in return.
A decade later, I am so lucky, thankful, blessed.  Lucky is a feeling – as available to experience as joy and sadness are.  It's a feeling of gratitude that I can create, just as I can create  paintings on canvas.  By accepting the road left before me – as hard as that was to face – and traveling along it with my passion for life as my compass, I acted as though I was leading a normal life – and so life became normal – maybe even  better! 
I still think about my old li
fe, and sometimes I do miss the innocence in my eyes, the feeling that life was a straight path to my dream life, and that everything was possible.  But everything and anything became possible once I was willing to wander from my teenaged fantasies and take this new life on proudly.  I can't be 18 again but lucky for me I can be the best 28 I can.  This is not the path that I planned for myself – but does anyone's life ever work out exactly how they plan it? 
So many gifts came out of this.  I discovered painting in hospitals and flourished as a mixed media artist with solo art shows, merchandise and creativity workshops.  I wrote a one-woman musical about my life, Gutless & Grateful, which I've performed in theatres across the country for three years and now take it to campuses, conferences and support groups.  After never having a boyfriend in my life, I tried online dating…and just got married this June!  I finally started college…at 25 years old.
And now at 28, I'm touring colleges again – but differently.  I'm touring the country with my own show!  Now that I'm also  in my third year of college, I've realized that physical and mental health issues are things we all think about, even if we don't label it as anything.  We all need to learn how to cope when life doesn't go like we expect it to.  We all have detours in our lives, and we become empowered when we trust that we can travel those detours and come out okay – even better!  That's why I'm using Gutless & Grateful as a program fof college campuses – to show how a detour does NOT have to derail you.  This "detour" in my path has turned into the richest time of my life and I'm overwhelmed with gratitude.  That's why I call it my "beautiful detour."
I'm lucky to have realized the strength and resourcefulness I never knew I had within me, the love surrounding me, and for that voice inside that whispers, "Anything is possible."  So why make your own luck?  Why not…?
Who would have thought I'd be singing and dancing about one of the hardest times in my life for students who were…and are just like me?  That's how you make things happen for a reason.  You turn your detour into the best trip of your life.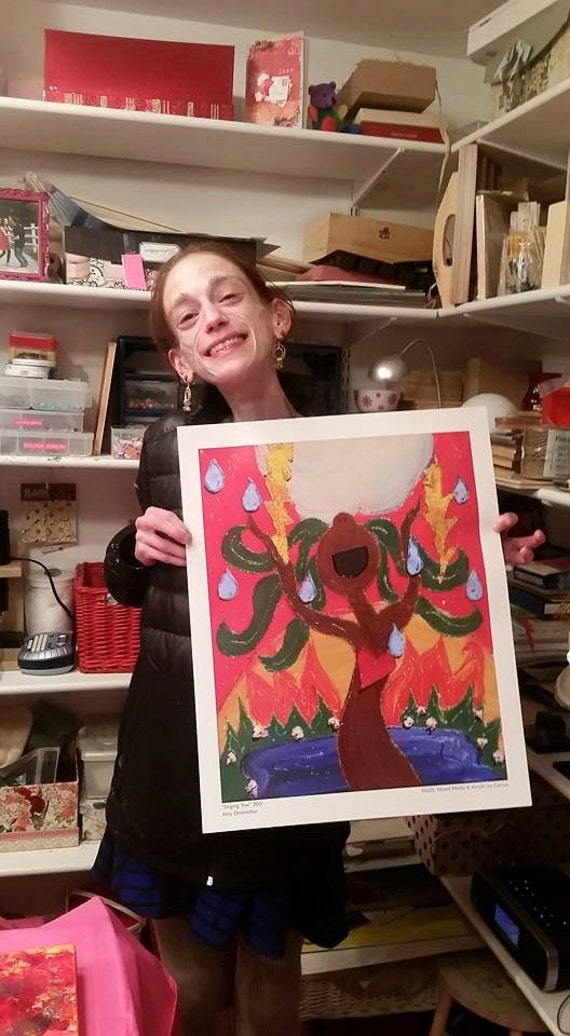 Amy Oestreicher is a  PTSD peer-peer specialist, artist, author, writer for The Huffington Post, award-winning founder of the Fearless Ostomates, actress and playwright.  As a survivor and "thriver" of nearly 
30 surgeries
, a coma, 
sexual abuse
, organ failure and a decade of medical trauma, Amy eagerly shares the lessons learned from trauma and has brought out the stories that unite us all through her 
writing
, 
mixed media art
, 
performance
  and 
inspirational speaking.
 Amy's 
"beautiful detour"
 has inspire her passionate desire to create and help others.  Amy's 
"beautiful detour"
 has inspire her passionate desire to create and help others.  She created the 
Detourist
 #LoveMyDetour movement to bring a positive light to life's bumpy, unexpected routes.  Amy is currently touring the country with her one-woman musical, Gutless & Grateful, as a mental health advocacy program for colleges. Visit 
amyoes

.com
 for more information and help in  bringing Gutless & Grateful to your 
campus.